Concept
Feeling = Feel
You will find children of various nationalities at the Entente International Preschool. Their emotions are fostered in a human way by having them make friends with children from other countries from a very early age here in Japan, where internationalization is an imperative.
Knowledge = Understanding
Knowledge has no meaning when it's forced. Through play, we deepen understanding in three areas: the self, one's surroundings and nature.
Action = Can and do.
It's important to express one's emotions and desires in ways that are highly creative and constructive. We give children confidence by providing experiences that allow them to think on their own and solve problems.
Pre-School Class
Wanting to achieve
Childhood is an important period, a time that isn't just about play and physical development. Rather, it is a time to build human knowledge and the foundations for leading a full life. Children can prepare for their future even while they enjoy their basic way of living. We aim to be a place where such an education is possible.

In addition, classes are conducted in the common language of English so that we can bring together children from various countries. We believe that children with different mother tongues can achieve a natural use of day-to-day conservational English by coming into contact with the language in a natural way and continuing to use it, as they spend time within an international environment.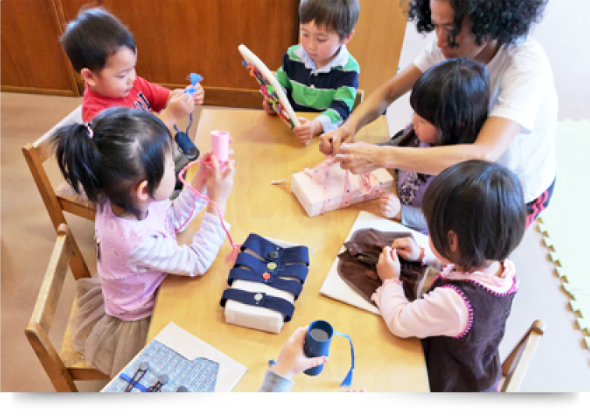 Purpose

The daily classes consist of a morning preschool program that covers five areas: Art, Science, Music, Movement and Language. The afternoon program is focused on Language, with listening to English (phonics), pronunciation and listening (the alphabet).

As for the English language, "English Points" are decided monthly and efforts are made to acquire different aspects of the language.
Once the child has graduated from "Apple Class," the aim is then for them to acquire a high level of phonics and the alphabet..
CHERRY CLASS
Age 1 Class
This is a class for children who are 1 year old.
This incorporates programs in line with the children's development, where they can enjoy their time while interaction with friends is emphasized.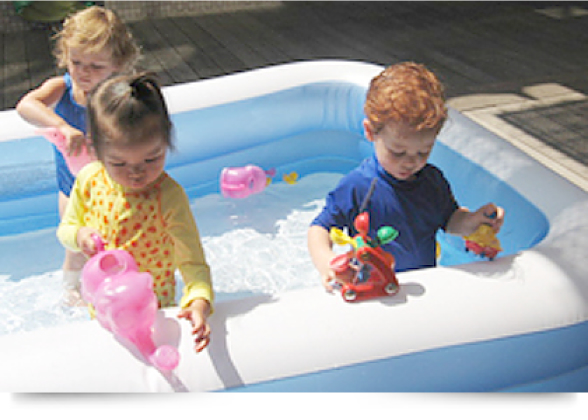 BANANA CLASS
Age 2 Class
The children learn how to play with friends from a variety of different countries, as they build up their English listening and concentration powers.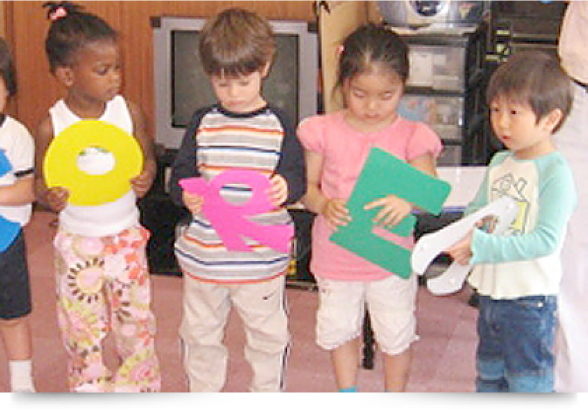 APPLE CLASS
Age 3 to 4 Class
As they interact with their friends from various countries, the children build up their powers of listening and speaking English and become acquainted with the cultures of those countries.
In addition, they start to develop confidence in being able to do things on their own.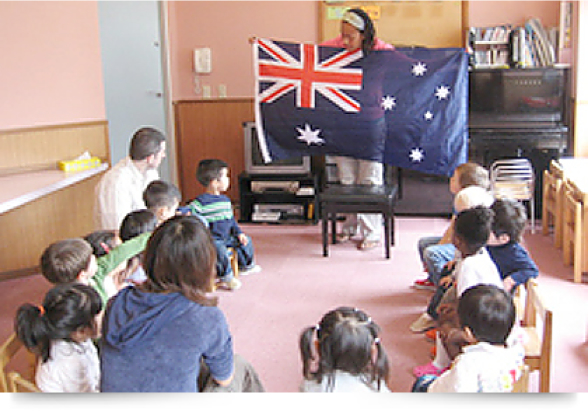 PLUM CLASS
The children improve their English conversation ability after moving on from kindergarten and elementary school. This is intended to be an advanced class, conducted at a level where the children can have conversations in English as they have fun with their foreign friends up until the higher grades of elementary school.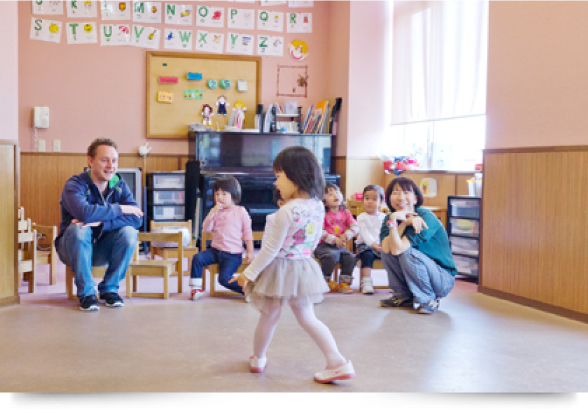 We try to create the impression that the children have been attending an international school once a week, rather than using English conversation levels for children. Although many of the children are Japanese, we run programs where they participate together with other children who are native speakers.

The classes are conducted entirely in English for the Art, Crafts, Science and Cooking programs and for Sports. Once children reach the higher classes, they perform various roles in their Drama classes, while in their Speeches they talk about themselves and their ideas in front of their classmates.
*Children are admitted once they pass a level check, with the exception of former students of the preschool and children returning from living abroad.
*The days when classes are held may change. Please enquire about this.
Nursery
The Nursery
This is an international nursery where children can spend fulfilling and enjoyable time in line with their level of development. Their hours are spent in bright, spacious places such as rooms for different kinds of play, including comfortable sleeping rooms for infants, sunlit balconies, and so on. As some of the children are from various countries, English is used in the rooms.